Coins Leopolda I.
12 items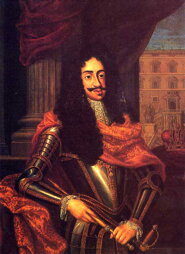 Leopold I. of Habsburg (* June 9, 1640, Vienna - † May 5, 1705, Vienna) was the Austrian Archduke (since 1657), Hungarian (since 1655) and Czech (since 1656) king , Roman - German emperor (since 1658), from the Habsburg dynasty, the fourth son of the emperor and king Ferdinand III. and his first wife, Mary Anna of Spain.

The Kremnica Mint in Hungary was one of the most productive mints. In 1661, rolling punching machines were introduced, making production highly efficient. The Kremnica Mint used the traditional KB brand.
Lepold I's gold coins are rare and appear mainly at auctions. Thanks to the large number of vintages, denominations, and master masters, the coins of Leopold I. are very interesting for numismatists and are also popular from the point of view of artistic design. The number of collectors of Leopold I coins is constantly growing, which is why their price at auctions is also increasing, which is also interesting for investors.